Spray Tans with Friends
Host a Wee Tan Party With 5+ Friends & Get Your Tan FREE!
Got A Big Night Out with The Girls?

Have a pre-night out with Tan Party

5 Friends Host goes free

Or split the difference

8 Products to Choose from

Get a few wee drinks in

Great Savings

Great Fun.
Book An Appointment That Suits You!
A Great Night In Getting Tanned.
What could be better than having a girly night with all your friends in the comfort of your own home having a laugh and not forgetting the Bubbly. During this time it is up to YOU the host to decide what your guests will be doing. We know everyones skin tone is different, & that some girls prefer a dark bold finish whereas others like a subtle shade.  
Thats why we bring a selection of tans from;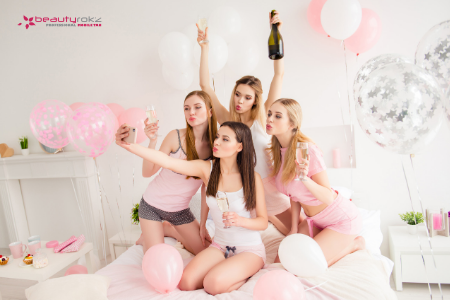 Spray Tan Products
Beautyrokz, Laurens Way, Bondi Sands so that everyone is left with a beautiful glowing finish.  I do recommend that all guests at a tan party take along a long sleeved top & bottoms, pyjamas or comfy tracksuit. Anyone can hold a spray tan party but if the group is under 18 than I ask that at least one adult is present and consent from each parent is given
Book An Appointment Today That Suits You! Tel: 07835 613 282
You Can Also Contact Us Through Social.
Hope To See You Soon.
Angela @ Beautyrokz x
Check out our essential, handy easy to read Before & After information. For the Absolute best results check out or Preparation & Aftercare Blogs. They will help you achieve maximum super sexiness & increase the longevity of the tan.  I will be happy to answer any questions you may have.  If you need any help and advice please feel free to contact beautyrokz through Facebook i will be happy to help. You can also check out our regular #TopTanTips on Instagram