Spray Tan Before and After
What Should I Do Before A Spray Tan? When should i shave my legs? Do i wax before a spray tan or after tanning? How many days before should a wax? Do i shave after a spray tan & can i use shaving cream?  I am afraid it will go streaky is there anything i can do to help? What do i avoid wearing? Will i get tan lines if i am wearing a bra? Does it hurt? What should i do with my hair before a tan. I am getting my nails done will the tan affect it? 
Spray Tan After Care
I have a few nights out how long will it last? Does it come off streaky? What do i wear?  I get asked these alot, everyone is afraid of a tan disaster DON'T WORRY, all our tan are 100% streak free, and there are just a few wee requirements you can do before and after the tan that will help the application of the tan onto the skin and maintain it so the tan last longer. Follow these simple tan tips to ensure that your spray tan achieves maximum super sexiness.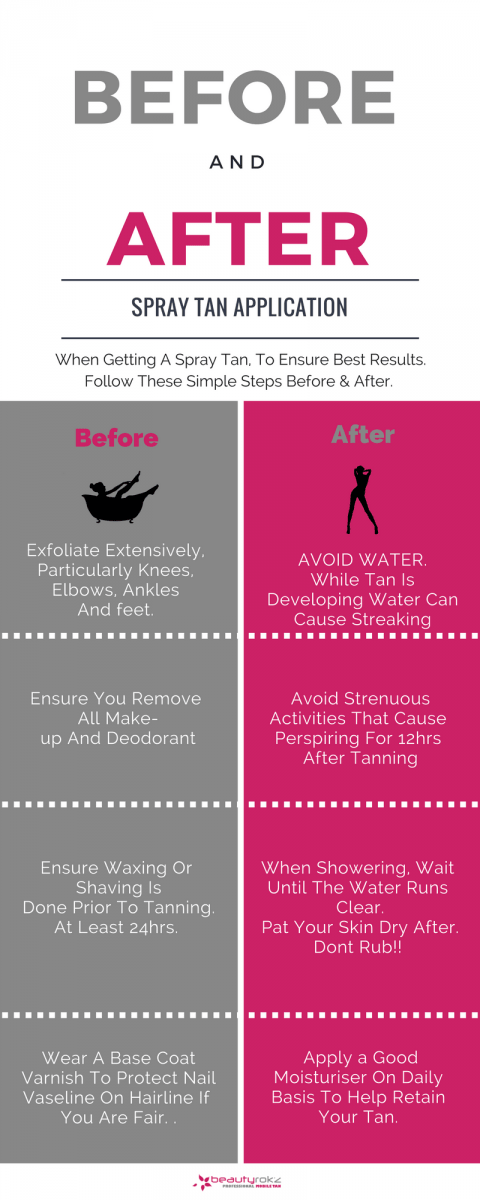 Mobile Spray Tanning Near You
Ayrshire ladies, have you tried beautyrokz for a spray tan appointment? Why travel into Kilmarnock, Irvine, Troon, Prestwick or Ayr for a beautician, beauty salon, or (heaven forbid) a spray tan booth or sunbed when you can have the tanning salon come direct to you. The beauty of mobile tanning is that all this can be done in the comfort of your own home, we also have a huge range of tanning solutions to suit all skin types. No need to travel home from the beauty salon when you can get tanned and then right all in your jammies. Boom. 
Any Questions Contact Us or Tel: 07835 613 282
Hope To See You Soon.
Angela @ Beautyrokz x
follow our Blog & look for #TopTanTips on our instagram page for more helpful hints and tips. x