Spray Tan Near Me
(Have You been googling spray tan near me? Then beautyrokz is perfect for you, as it's in your house so really near)
Full Body Spray Tans

Late Appointments

Wide Choice Of Tans

Highly Rated (reviews)

Tans From Only £18

Relaxed (in your house)

We Only Do Spray Tans
"I have are a very particular set of skills. Skills I have acquired over a very long career.
Skills that make me a DREAM for people like you.
If you need a tan, If you don't want to go to a salon, I will look for you,
I will find you and I will spraytan you." 
Mobile Spray Tan Salon
Imagine, getting home from work & you have a big day out the next day. You don't have time to go to the salon, you have too much to do tonight. Well, beautyrokz is an at home spray tan service. We bring the professional salon tan service into the comfort of your home at a time convenient to you. No need for that dreaded walk home with your comfies on looking around hoping no one spots you. You can sit back & relax with a glass of vino, get the tan done, and then into your comfies again with no worries. Think of me as your Tan Therapist that leaves you in a state of bliss...... 
You can even invite a few friends around. Have a little party. Have a laugh, get tans AND, you even save money to! With a Wide Range of Products we have something to suit all. If you prefer dark and bold, or nice an subtle. Whatever preference, occasion or budget we can help.

Spray Tans At Home Can Be Better Than The Beauty Salon. 
My name is Angela & I started BeautyRokz 13 years ago, I am certified, qualified & insured. At Beautyrokz we understand the need to look great these days. With busy lifestyles, family & a hectic social life, trying to find the time to go to a salon is a chore and a hassle. That's why we come to you when you want &
all from as little as £18!
We have the widest range of products. Guaranteed to suit all skin types, occasions & budgets, we will have something for YOU!
The Amazing LAURENS WAY
Australias Favourite BONDI SANDS
& Our Own Elegant Beautyrokz Tan 
Faking it has never been so EASY!!
Book An Appointment That Suits You!
Tel: 07835 613 282
Hope To See You Soon.
How Would You Like To Save Money, get a CHEAP TAN with our loyalty cards. 
Ask About Our Loyalty Cards. You Can Save While You Tan! For every 5 tans we give you your 6th tan HALF PRICE. Refer a friend we give you an extra tick too. Leave us a nice wee review on Facebook, Yell.com or Google and we will add another tick.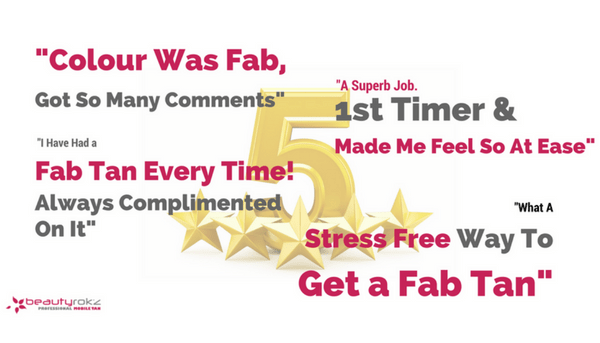 Spray Tans By Beautyrokz
The time of the tango tan, put on like airbrush painting a fence are in the past where they belong. 
Ladies, no longer do we have to suffer in the search of a nice wee holiday glow. There are now many wonderful spray tan products out there. Thank God!.
With the right prep, application & aftercare you can look like you have spent 2 weeks in the sun without even leaving home
.
Airbrush Tanning Near Me
At beautyrokz we only do Mobile Spray Tans… but – we do them brilliantly!!!
*Brand New. The Australian Tan You Can Experience Every Day. 3 beautiful shades, enriched with aloe vera with coconut scent. From £19
·         Bondi Sands 8% Medium
·         Bondi Sands 12% Dark
·         Bondi Sands 14.5% Ultra Dark
Laurens Way is an elegant deep natural tan made popular from the show "The Only Way is Essex." From £23
·      Laurens Way 12% Medium
·      Laurens Way 16% Dark
A delightfully natural looking tan. from only £18. You looking for cheap spray tans near me... this is your choice
·         beautyrokz 12% Light Tan
·         beautyrokz 16% Medium Tan
Ayrshire brides
beautyrokz can help you

No Streaks - No Stains - No Orange  
Just Radiant Skin!
The growing demand for wedding tans means more and more brides are now looking for a tan fitting service.
WEDDING SERVICES 
Whether you want the look of a full on bold tan or a subtle glow to look your best for your special day then I can help. No Matter the skin types we have a tan for you. A Subtle Elegant Glow, With a Wedding Dress Looks AMAZING.
We know that the focus is on the bride, but we have the rest of the party in the pics as well. If you have the bridal party looking all tanned and smiling the pics are amazing. And ladies, this includes the groom, get him on board. Not only does the skin look beautiful, you also radiate a confidence that you cannot put a price on.
Tan For My Wedding
Yes Or No? 
Worried it will be orange? Frightened it will run on to the dress? Unsure how it will work with your other beauty treatments?? Don't worry these are question, along with many others I get from brides all the time. Check out our Wedding Tan Guide for more information or give me a call. 
SPRAY TANNING FOR PARTIES & HEN DOS
We also offer
SPRAY TAN PARTIES
 for five or more people and you, (or the bride) gets their tan
absolutely
free. What could be better than having a night with all your friends in the comfort of your own home having a laugh? Spray tan parties can be a great way to get everyone prepared for a wedding or night out. Oh, and I bring the bubbly!* What more could you want? Anyone can hold a spray tan party. If the group is under 18 than I ask that at least one adult is present and we get consent from parent of guardian.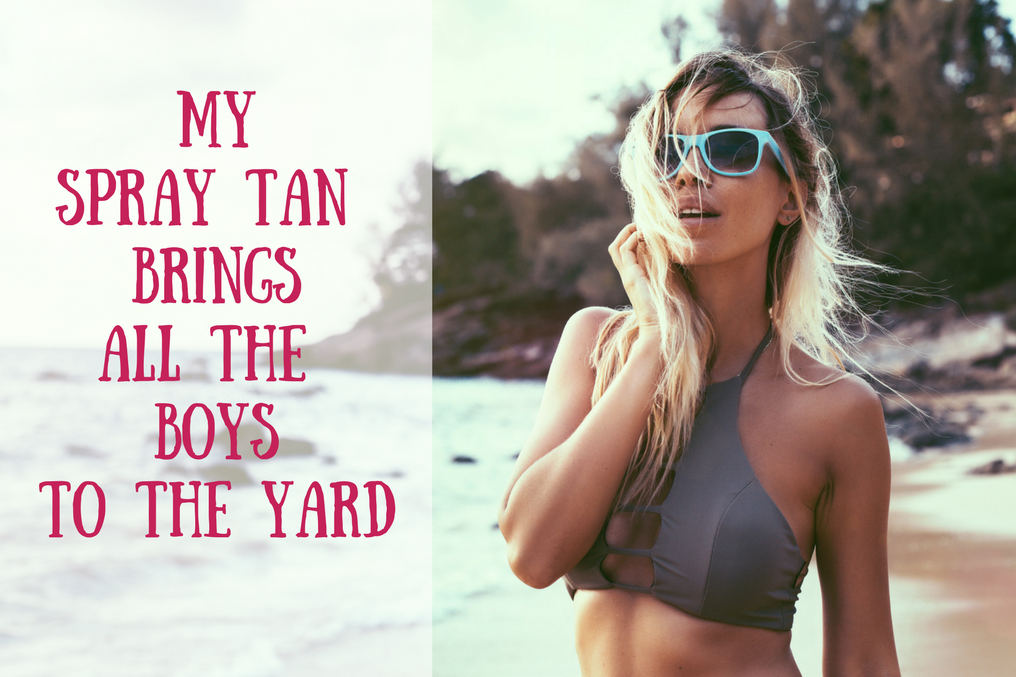 Fake Tan Help
At beautyrokz we understand that ladies love to tan (especially in the west coast of scotland, where we hardly see the sun) and going out pale is a no no. We also know that for most girls a quick fix in the house with preferred tan brand is enough, but even a quick fix, or as part of your daily routine you still want to make sure that you tan is on point. So we have come up with a number of ways to help you. Using our years experience, tried and tested techniques, training, youtube vids, blogs, seminars and more we have brought together tips & advice so your tan will always look A.MAZING!!!!! 
Fake Tan Blog
You can check out our regular blogs on tan techniques. These range from prep to advance techniques. Tan Help On Social Media. Keep and eye on our social where we post regular #TopTanTips on instagram, pinterest and so on and so on. Ultimate tan guide. We have also put together our ultimate guide to tanning, here we have amalgamated what we think is the best tips for fae tan prep, tanning application, and aftercare. 
Spray Tan FAQs
For the majority of my clients a spray tan is a little treat, something that you plan in advance when you have a big night out planned. You have a wedding, or day at AYR RACES, or Saturday Sesh with besties you've not seen in years. So, when you are booking your night out, getting nails and hair done and you have booked your spray tan, check out the FAQs so that when you get it done it gives you the best possible results and lasts well in to the following week.  
Beautyrokz Here To Help
Message or Call Us 
Tel: 07835 613 282
We'd Love To See You. 
Angela @ beautyrokz