loyalty card rewards
---
Update to Beautyrokz Loyalty Cards.

Message to all our current clients.
As of January, we are now offering all brands as part of our loyalty card. As you will know we have always had the loyalty cards available, 5 tans and get your 6th free. Most clients I service do have a preferred brand, be it xen tan, Laurens gold or Laurens way, unfortunately this is not available to them on the loyalty card. Unfortunately, the cost of the branded products I simply am unable to offer this as the free tan. I have therefor decided to incorporate the well-known brands into the loyalty scheme.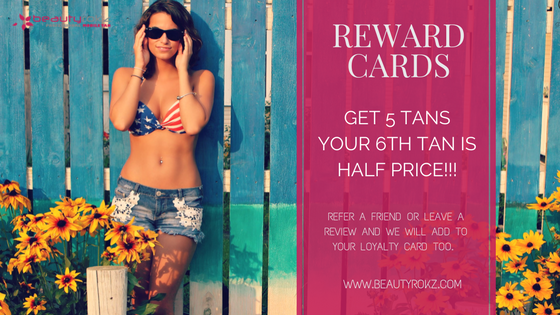 This means you will now be able to take your preferred brand on the 6th tan at half price!!!
This also means that the beautyrokz tan (free previously) will also be half price.
As always for every 5 tans you will get a tick on your card, refer a friend or leave a wee review we will give you a tick, then on your 6th tan you can choose which ever brand you wish and get it half price.

Any clients who currently have points accumulated and you do prefer the beautyrokz brand for free will still get this. Any new card will then get the new offer with the amazing brands included.
Spray Tan Deals
Loyalty Card Offers on the 6th Tan.
If you have any questions whatsoever feel free to call or message me or call
Tel: 07835 613 282
We are Always Happy to help.
Hope To See You Soon.
Angela @ Beautyrokz x
---